Four proven ways to brand your contracting business and increase profit


---
By Rob Redding | August 2022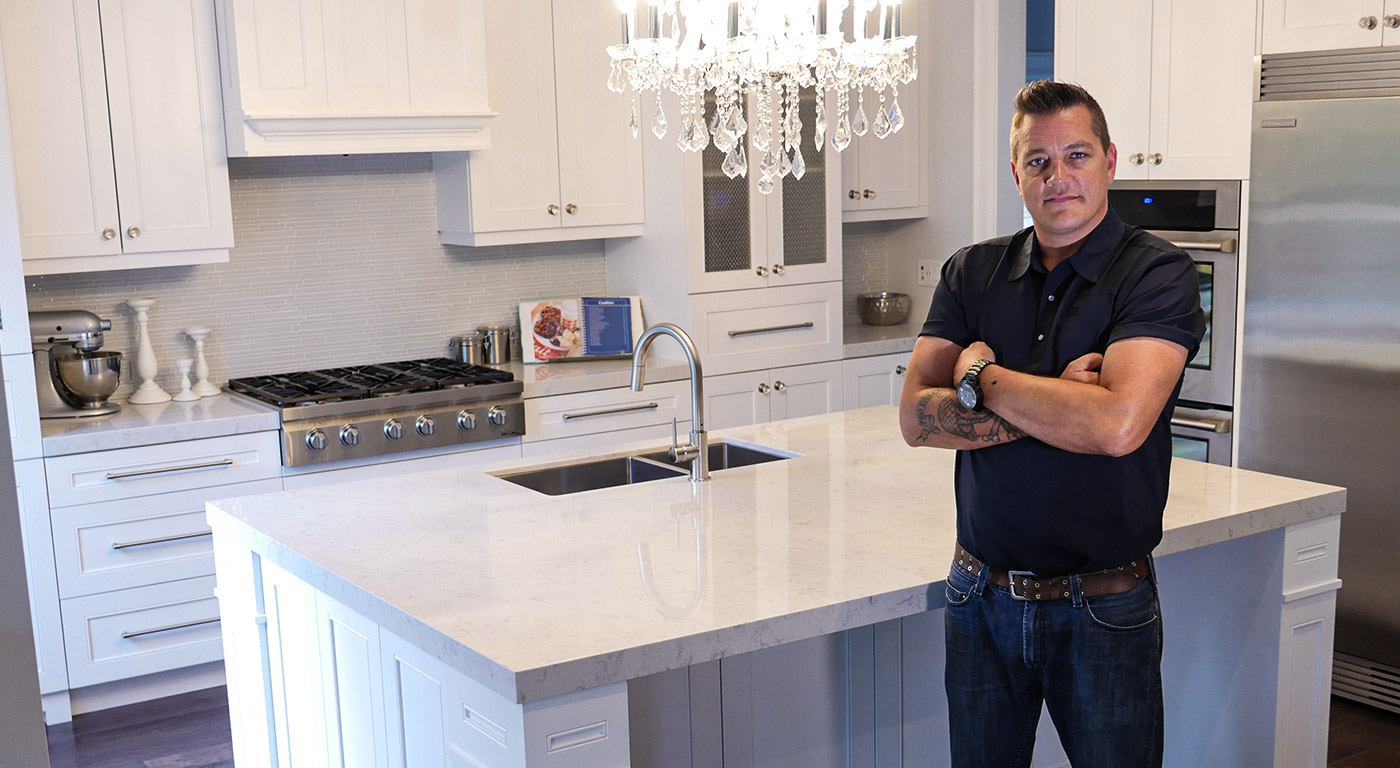 Damon Bennett of Bennett Building Co.
Share this blog
---
What is branding - and why is it important for contractors?
The idea of "branding" actually dates back thousands of years, but its meaning has evolved over time. Today, we can best think of a brand as the set of intangible attributes that are linked to a product or service.
A brand is like a promise that defines what a company or individual stands for. It is the emotional connection between the consumer and your product or service.
Whether you've deliberately created your brand or just left it to chance - your construction or home renovation business already has a brand. Because that brand is so important in the industry today and with your clients, it's really best not to leave it to chance.
Branding can be done through many different channels - from your website, to social media posts, and even your business cards or trade show display.
This article outlines four key strategies to build your company's brand, increase awareness of your products and services, and grow the bottomline.
---
1. Create a compelling logo design
Logo design is one of the most important aspects of a brand. Done right, it makes a strong impression on your customers, so it needs to be memorable. A logo can be used as a shorthand for an entire company, so it should be designed with care and thought.
There are many logo design tips that you can follow to create a compelling logo design. The first step, though, is to be clear about what your company does and what its goals are. Then find a way to translate that into an image that will represent your company in the best possible way. Once you have this idea, it's time to start designing!
Use clean lines - Clean lines make your image more modern and professional looking, so this is one of the most important things you can do when designing your logo.
Make it easy to read - When designing a logo, make sure the main message is clearly spelled out so people have no trouble figuring out what it is. Check for other words cluttering up the logo and try to keep everything that might distract away from it.
Make it memorable - A logo that is memorable also stands out, so make sure there are certain aspects of it that will stick in people's minds.
Use simple geometry - Keep your logo geometric and simple so that it is easy to reproduce, even on low-resolution devices. The best logos are one or two colors, with a limited number of shapes.
Be bold - A great logo should feel bold and confident while still being recognizable at a glance.
Once you have your shiny new logo, it's time to put it in play. Make sure the new logo is used consistently wherever you are representing your brand – in person or online.
---
2. Use social media platforms effectively
Social media is a powerful tool that can be used to promote your business. It has the potential to reach a huge audience, and it is also a low-cost way of marketing.
There are many different social media platforms and sites out there, each with its own unique features. You should first decide which platforms you want to use in order to reach your target audience.
You should then develop an online marketing strategy and create content for each platform accordingly.
It's important to keep in mind that not all social media platforms are created equally, so you need to tailor your strategy accordingly.
Before you start creating content to share on social media, it's important to determine what your ultimate goals are. Make sure that you know what type of content people will be looking for in order to engage with and follow your brand. This is especially helpful if you want to create campaigns specifically for a specific platform.
Be realistic about your time commitment. Social media can be a full-time job, and not everyone has the time or staff resources to dedicate to doing it well. But that doesn't mean it's not important. Make sure that you're realistic about how much time you can dedicate to creating content on social media platforms and its overall impact on your business. If you need help with getting started or optimizing your social media channels, there are affordable professional services available to help maximize your impact on social media - and make your brand shine.
We can help you with your social media
---
3. Create a professional company website
A company website is the first impression for many potential clients, so it is important to have a professional and attractive website design.
The first thing that a visitor will see when they visit your website is the homepage. It should be easy to navigate and should be visually appealing. The homepage should include information about your company, what you do, and why people should care about you. You can use a template or hire a professional web designer to create the perfect, polished homepage for your company.
At a minimum, your homepage should include the following elements:
A header graphic at the top of the page
typically with your website's name and logo
Your company "tagline" - the slogan or motto that customers should associate with your business. The tagline should be short, snappy, and memorable.
A site description that tells visitors what your company does and why they should care. (This could include a description of your company's products and services)
A navigation bar that provides links to all other parts of the site
Contact information, including company name, address, phone number and website address, as well as a link to a contact form for sending email.
As you think about other pages on your website, remember that your company's online brand is a reflection of the company itself. Your website should feature images and other content that is attractive to visitors, calls attention to your offerings, tells prospective clients what your business does, and entices them to learn more about how you do it.
Check out our website services
---
4. Develop a good customer service policy - and follow it to keep your clients satisfied and happy
The customer is always right. This saying has been around for a long time and it is still relevant today. It is important to keep the clients happy because that's how you will get repeat business and word-of-mouth advertising.
There are a few ways to go about this, but having a clear customer service policy is essential. A good customer service policy includes:
How will you communicate with your clients?
How will you address complaints?
What will you do if there are any issues with the product or service?
What happens if the client cancels their order?
What happens if they want to return their product or cancel their service after it has already begun?
Think through these scenarios and develop a policy now. That way, both you and your client will know what to expect – before something becomes an issue.
---
The bottomline about branding in the construction industry
In the construction industry, the bottomline on branding is that it is a crucial aspect of the marketing mix. Your company's brand is what differentiates you from your competitors. And as the industry continues to grow, so does the need for a a good brand.
A strong brand will help your company stand out in the market and attract more customers, so don't leave it to chance. Using the strategies in this article, you can be deliberate about shaping the brand for your company – with an approach that reflects your company's strengths and its values.
---
---

Rob Redding is the President of Redding Designs Inc. (reddingdesigns.com), a full-service digital marketing agency for the construction industry, offering web design, social media marketing, and SEO services.