Good photos: a must-have for every contracting business


---
By Rob Redding | October 2022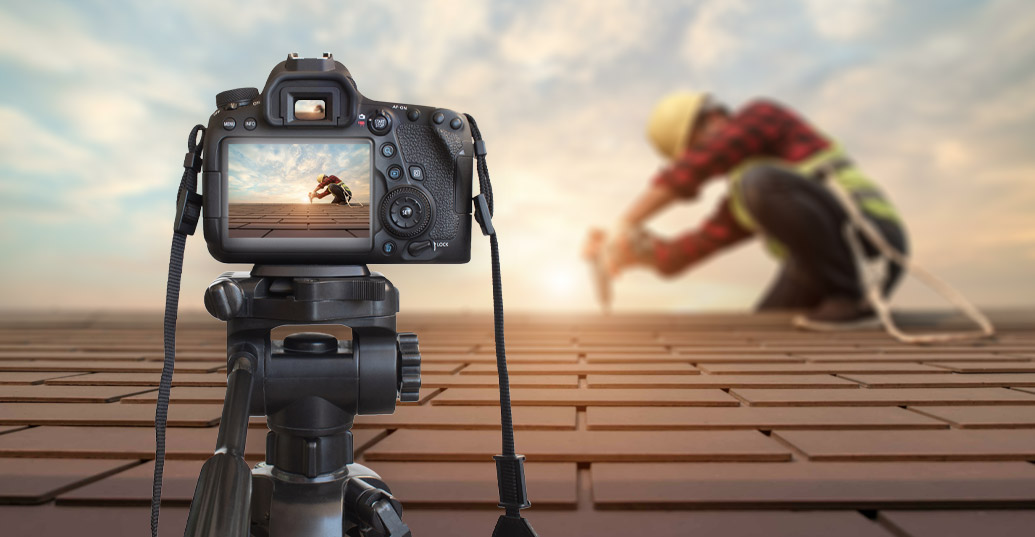 Share this blog
---
When you're a contractor with a busy schedule, it can be easy to push off the little things ... like taking some good photos of your work. But did you know that photos are a must-have for your business today? They should be an integral part of every contractor's business plan. Images are what people remember when they think back on their days meeting with you in your office – or about their interactions with your team onsite. When potential clients look through the photos on your website and social media pages, they get to see the real you: all smiles and hard work, paint on your shirt and pride in your eyes. (Well, you get the idea.) And when potential clients see that passion for what you do—and how much fun it is to work with you—chances are better than good that they'll want to hire you over any other contractor out there!
---
Showcase your work, your clients, your brand
This one is obvious, but it's also a time-tested way of getting more clients. Nothing speaks to potential customers like seeing the results of your labour right there on your website. That being said, don't just throw up job site pictures with no context or description—it's crucial that you use these images as an opportunity to tell a story about what you do and why it matters to people who aren't necessarily contractors themselves (i.e., most people).
If you want to win over prospective customers, show them who else trusts you enough with their money and time. If you have some "big names" who call on you for help with their projects every day, include a photo with them! A social media post to share the photo might read like this:
"This company has been working with us since [year]. They trust us because we always deliver high-quality work at an affordable price point—and they know that means they'll be able to keep expanding without breaking their budget!"
Showcase your office. This is an interesting way to show prospective customers how you work, even if they won't be visiting it in person. You can get a feel for the mood of an office from just looking at some pictures and seeing what kind of space people are spending their time in. You can give potential clients that experience by posting photos on social media.
Build your brand. Having a professional-looking website is a great way to build your brand, but it's also important for contractors to showcase their work on social media. Sharing photos of projects that have been completed recently or are currently in progress could be just what someone needs before making the decision to hire you! If nothing else, sharing these images will give potential customers an idea of how well you've done in the past with other projects.
---
Attract new clients by standing out
Aside from highlighting your company's strengths and personality, you'll also want to show potential clients what they can expect to get out of working with you. Contracting work is often a big investment for homeowners so it's important that they know how professional and skilled you are before committing to a project. As noted earlier, make sure that each image is accompanied by a description of what the project was like and why it was successful.
It's not enough to have beautiful photos of your work. To really make an impact, your photos should tell the story of who you are and what you do. Show off the details that make your projects unique.
Your images need to highlight what makes you stand out from other contractors in your industry. It doesn't matter if you're a general contractor or a master electrician—if there's something specific about how you do business that sets you apart from everyone else in this field, let potential clients know about it!
---
Never let yourself forget: the image is power.
The image is power.
While the written word can be effective in conveying your message, a well-crafted photograph can convey it more vividly and leave a lasting impression on your audience.
So how do you choose pictures that will help you get your point across? The following tips should help:
Choose photos that speak to your audience. If you're trying to make an impression on potential clients, choose images that will resonate with them. Often, the best photos will show you and your team hard at work on a project - as well as the finished result.
Use photos that inspire feelings of trust in your audience. Images such as smiling faces are great for this purpose because they show relationships between people and give off positive vibes.
If your project involves a major transformation of a living space, don't forget to take some pictures of the existing space before you start working on it. "Before, during, and after" photos tell an important story about you and your work - and what your team is capable of doing.
Use pictures that show your audience what you're about. Photos of buildings, homes and other things related to your business are great for this purpose because they show people what kind of work you do and how it affects their lives.
---
Celebrate your team
Showcase your team's hard work and passion, because this is what makes them great.
Include photos that demonstrate how committed your team is to making sure their projects are done correctly.
And don't forget to include photos that highlight your team's pride, and how much they genuinely care about their work. The best pictures will make it clear just how much effort goes into making sure every project is done right
Every contracting business needs to showcase the best work its team can do.
---
Snap regularly!
Remember to snap frequently throughout your projects.
If you haven't already, it's worthwhile to invest in a smartphone with a good quality camera. Then … practice. You need to know how to use it quickly and effectively to capture good shots on the job site and on the move.
And like every other task while you work, always remember: safety first.
---
Images should be an integral part of your contracting business plan.
Savvy marketers know that images are a powerful tool. As outlined above, you can use them to:
Tell the world about your work


Show off what you do—and how well you do it


Attract new clients
Photos allow you to showcase what your business can do—and to tell the story of how you got there.
I hope the tips in this article help you understand the importance of images for your contracting business. It doesn't matter how hard you work or how great your services are—if people can't see what they want in pictures, then they will be less likely to contact you for that! But, when someone sees an image that tells them exactly what they need, they are often quick to jump on it without looking back.
If you're not already using photos as part of your contracting business plan, now is definitely the time to start.
---
Need professional photography?
---
---

Rob Redding is the President of Redding Designs Inc. (reddingdesigns.com), a full-service digital marketing agency for the construction industry, offering web design, social media marketing, and SEO services.