5 big reasons to include digital marketing in your 2024 budget


---
By Rob Redding | September 2023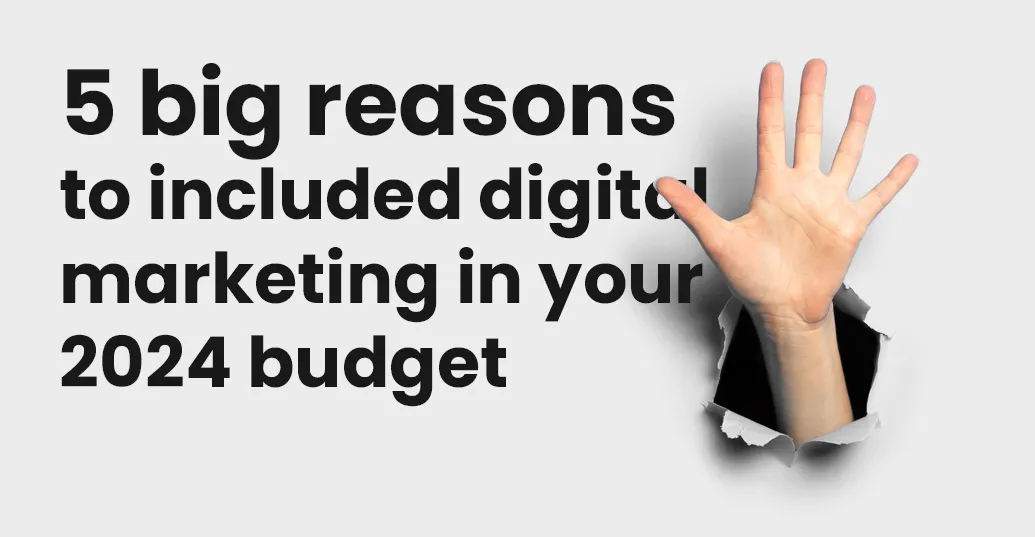 Share this blog
---
As we continue to move into a more connected and digital era, marketing strategies are rapidly evolving. With the majority of consumers now spending substantial time online, digital marketing has become an integral part of today's top business strategies. If it's not already part of your business's marketing plan, it definitely should be. Below, you'll discover five big reasons why your business should include digital marketing in its 2024 budget.
---
1. Increasing digital consumption
The digital revolution has undeniably changed the way we live, work, and shop. As per recent studies, the average Canadian spends over 6 hours online daily. Meanwhile, global e-commerce sales are projected to reach $6.3 trillion in 2023. In addition, over 60% of shopping occasions begin online. This only illustrates the growing significance of the digital world.
Without a doubt, the pandemic helped catalyze this shift towards digital. Social distancing and lockdown measures not only accelerated online shopping but also normalized it across different age groups and demographics. More people started turning to digital platforms for entertainment, education, work, and communication, thereby further expanding the digital consumption landscape. Investing in digital marketing allows your business to adapt to this new norm, ensuring your brand remains visible, relevant, and accessible to consumers in an increasingly digital-centric world.
And, keep in mind that consumers turn to the internet not just for shopping, but also for reading reviews, comparing prices, and seeking recommendations. Your business can tap into this digital behaviour, effectively reaching potential customers right where they spend much of their time.
---
2. Cost-effectiveness of digital marketing
In a world where every dollar counts, businesses must ensure they are getting the most bang for their buck. In terms of cost-effectiveness, digital marketing outshines traditional marketing methods. Research shows that content marketing (one aspect of digital marketing), costs 62% less than traditional marketing and generates approximately three times as many leads.
Digital marketing provides the flexibility to test, stop, or adjust campaigns in real-time based on their performance, something that's typically not possible with traditional advertising channels. This flexibility allows businesses to optimize their marketing budget, ensuring resources are not wasted on ineffective campaigns. It also lets you react quickly to changes in market trends or customer behaviour, keeping your marketing strategy agile and responsive.
Moreover, small businesses using digital marketing have a 1.4x higher chance of expanding their workforce and business. It levels the playing field, allowing small and medium-sized enterprises to compete against larger corporations. By integrating digital marketing strategies, businesses can reach a broader audience, increase their customer base, and achieve a better ROI.
---
3. Targeting capabilities of digital marketing
One of the most significant benefits of digital marketing is its ability to target specific demographics. Traditional marketing casts a wide net, often resulting in wasted resources as many in the audience may not be part of your target market. On the other hand, digital marketing allows businesses to target customers based on location, age, interests, browsing habits, and much more.
Personalisation is another key advantage of digital marketing. Emails, for instance, can be personalized based on a customer's past purchase history or interaction with your business, leading to higher conversion rates. In fact, 72% of consumers say they only engage with marketing messages customized to their specific interests.
---
4. Ability to track and analyze results
In traditional marketing, it's challenging to measure the success of a campaign without extensive and often expensive market research. With digital marketing, however, businesses have access to real-time data and analytics. You can track everything from the number of people who viewed your ad to those who clicked, interacted, and even converted.
In the era of data-driven decision making, you can track the performance of your campaigns down to the most minute details. This granular data can inform business decisions and contribute to a better understanding of your customers and their behaviour, thus optimizing your budget allocation for better returns. So, in an uncertain economic environment, the cost-effectiveness of digital marketing makes it a must-have in your 2024 budget.
---
5. The future is digital
The world is increasingly becoming digital, and this trend shows no signs of slowing down. By 2024, new technologies and trends like voice search, artificial intelligence, and augmented reality are expected to start redefining the digital marketing landscape. To stay ahead of the curve, businesses need to embrace these trends and incorporate them into their strategies.
Staying ahead of digital marketing trends can provide your business with a competitive edge. It ensures your business is ready to engage with customers on new platforms and in new ways, thus maximizing your reach and potential for customer engagement.
As more businesses undergo digital transformation, those that fail to invest in digital marketing may find themselves at a significant disadvantage. Digital marketing is not just about selling products or services, but also about building strong relationships with customers. By leveraging various digital channels, businesses can provide personalized experiences, engage in real-time communication, and foster loyalty - all key elements for business success in today's digital-first world.
Ultimately, by investing in digital marketing in 2024, businesses are investing in the future. As technologies evolve, consumer behaviours and expectations will continue to shift. An effective digital marketing strategy can help businesses adapt to these changes, providing the tools necessary to navigate the ever-evolving digital landscape. So, as you plan your budget for the upcoming year, remember that the future is indeed digital - and your marketing strategy should be too.
---
Conclusion
In a nutshell, the ever-increasing digital consumption, cost-effectiveness, precise targeting, analytics, and the future-proof nature of digital marketing make it an essential investment for businesses in 2024. As we head further into the digital age, businesses that fail to adapt risk being left behind.
Now is the time to invest in digital marketing. Start by developing a robust digital marketing strategy, one that is flexible enough to adapt to the rapidly changing digital landscape. Remember, in the dynamic world of digital marketing, the one-size-fits-all approach doesn't work. So, tailor your strategy to your business, customers, and goals, and watch your business flourish in 2024 and beyond.
---
---

Rob Redding is the President of Redding Designs Inc. (reddingdesigns.com), a full-service digital marketing agency for the construction industry, offering web design, social media marketing, and SEO services.