Win the online review game


---
By Rob Redding | May 2023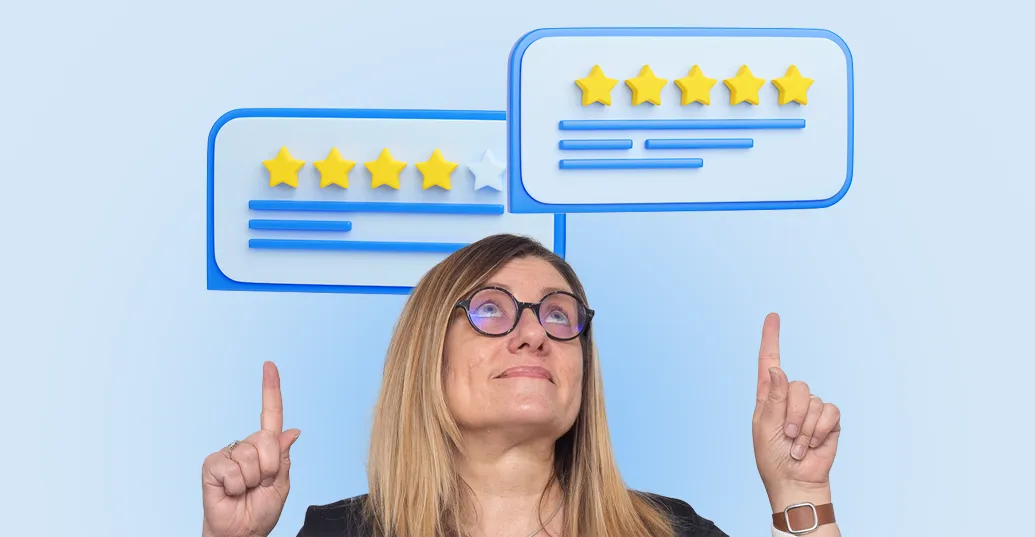 Share this blog
---
How to master Google reviews for business success
Hey there, fellow entrepreneurs! Ready to take your online presence to the next level? Let's dive into the world of Google reviews and uncover why they're absolutely essential for every business today. In our fast-paced digital era, online reviews play a crucial role in shaping consumer opinions and guiding their purchasing decisions. Google has emerged as the top platform for customer reviews, and understanding its impact is key to your business's success. So, let's explore the importance of the platform and learn how to make the most of it!
---
The power of Google reviews
We all know that word-of-mouth has long been the gold standard for driving business growth, but it's time to embrace the digital version: online reviews. Did you know that 87% of consumers read online reviews for local businesses? And it gets better: 73% of consumers trust a local business more if it has positive reviews. These numbers prove just how influential online reviews can be in guiding consumer choices.
Google has become the go-to platform for customer reviews. Google reviews are integrated with Google Maps and search results, making them highly visible when users search for local businesses. This means that the opinions and experiences of past clients are easily accessible to potential customers, making it crucial for businesses to be aware of their online presence.
---
The magic of positive reviews
Boosting local SEO
Having a strong presence on Google can significantly improve your business's visibility in local search results. Positive reviews can boost your local search engine optimization (SEO), as search engines like Google value high-quality and relevant content. When your business has a high number of positive reviews, it signals to Google that it is a trusted and reliable source, ranking it higher in search results.
Enhanced trust and credibility
Positive reviews act as social proof, indicating that your business has a history of satisfied clients. As potential customers read through these reviews, they are more likely to trust your ability to deliver excellent products or services. This trust can be the deciding factor in whether a customer chooses to work with you over your competitors.
Increased conversion rates
A high number of positive reviews can directly influence a potential client's decision to reach out to your business. According to a study by Harvard Business School, a one-star increase in a business's Yelp rating leads to a 5-9% increase in revenue. Although the study focused on Yelp, the findings can be applied to Google reviews as well.
---
The downside to negative reviews
Damaged reputation
Negative reviews can severely damage your business's reputation, deterring potential customers from reaching out. Clients who have a negative experience are more likely to leave a review, meaning that a few unsatisfied customers can significantly impact your online presence.
Decreased visibility in search results
Just as positive reviews can boost your local SEO, negative reviews can harm it. If your business has a high number of negative reviews, search engines may rank it lower in search results, making it more difficult for potential clients to find you.
Lost business opportunities
Ultimately, negative reviews can lead to lost business opportunities. As potential customers browse through your reviews and see a pattern of negative experiences, they may decide to look elsewhere for their needs.
---
So, how can I leverage Google reviews?
Encourage satisfied clients to leave reviews
The best way to maintain a positive online reputation is to consistently deliver excellent products or services and top-notch customer service. Encourage satisfied clients to leave reviews on Google, as this will not only increase the number of positive reviews but also help to offset any negative ones.
Respond to reviews, both positive and negative
Engaging with reviewers showcases your commitment to customer satisfaction and openness to feedback. Responding to positive reviews allows you to express gratitude and build rapport with your clients. When it comes to negative reviews, it is essential to address the issue professionally and offer solutions. This approach can sometimes turn a dissatisfied customer into a loyal one and even lead to the modification of a negative review.
Monitor your online presence
Keep a close eye on your Google reviews to stay informed about your online reputation. This practice allows you to address any emerging issues promptly and capitalize on positive feedback. There are various tools available, such as Google Alerts and social media monitoring software, that can help businesses track their online presence more efficiently.
Learn from feedback
Reviews can serve as valuable feedback, helping you identify areas where you can improve. By paying attention to recurring issues in negative reviews, you can address these problems and take steps to enhance your service quality. This continuous improvement not only leads to better customer experiences but can also result in higher ratings and more positive reviews.
Showcase your best reviews
You can also use your positive reviews as marketing material by showcasing them on your website, social media channels, or even in print materials like brochures. Featuring reviews from satisfied clients can provide social proof and help attract new customers.
Incentivize reviews
Offering incentives, such as discounts or freebies, to customers who leave reviews can be a great way to increase the number of reviews on your Google business page. Make sure to keep these incentives compliant with the platform's guidelines and ensure that they don't come across as bribes for positive reviews.
Train your staff
Educate your team on the importance of online reviews and how they impact your business. Train them on best practices for providing exceptional customer service, as well as how to encourage clients to leave reviews after a positive experience.
---
Conclusion
It's time to embrace the power of Google reviews and make them an integral part of your business strategy. Positive reviews can significantly boost your reputation, visibility, and conversion rates, while negative ones can have detrimental effects on your business. By encouraging satisfied clients to leave reviews, responding to feedback, monitoring your online presence, and learning from customer experiences, you can leverage these platforms to skyrocket your business's success. So go ahead, make your mark on the digital landscape, and watch your business grow!
---

Rob Redding is the President of Redding Designs Inc. (reddingdesigns.com), a full-service digital marketing agency for the construction industry, offering web design, social media marketing, and SEO services.