Contractors: take your logo along for the ride with a custom truck wrap


---
By Rob Redding | September 2022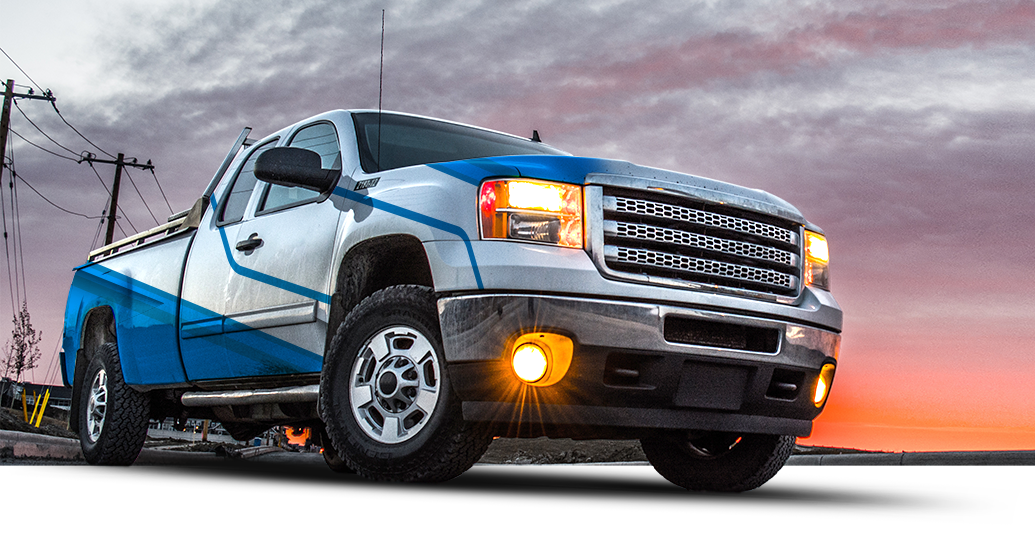 Decaled truck mockup by Redding Designs.
Share this blog
---
Maybe you've seen other trucks and trailers around town with a graphic wrap and have decided to give advertising on your own vehicle a try. Maybe you've been thinking about it for years but haven't made the leap yet. Let's sort it all out! In this article, I'll cover some of the reasons why adding signage to your vehicle is a great idea - and so some things to think about when designing the wrap that's right for your business.
---
Your logo and contact information on every job site
Your logo is your brand, your identity, and the face of your company. It's more than just an image on a business card or website—it's a promise to customers that you stand by what you do. That's why it's important to get the most out of this valuable piece of marketing material by placing it on items that represent all aspects of your work: trucks, hard hats, uniforms, and other attire.
The goal of all of this: to make sure potential customers know that so they can hire you for their next project. That's why it's such a good idea to make sure your logo is visible on company vehicles. A truck decal that has "Big Joe's Excavating" written in large, easy-to-read letters and features an excavator will make it simple for the average passerby to recognize who is doing all that digging in their neighborhood. And while they might not need excavation services today, a quality decal can help them remember your name when they do require those kinds of services down the road.
You're already driving to job sites, so why not make the trip really count?
If you're already driving to job sites, a vehicle wrap is a great way to make the trip really count. You're already spending hours in traffic. You can help get your name out there and promote your business by simply being on the road. Why not take advantage of the opportunity to build awareness of your brand?
In fact, advertising on your vehicle is a great way to get your company name and logo out there. And we all know how important it is for contractors to stay top-of-mind with potential clients.
Leaving a lasting impression on customers
A logo decal on your truck and/or trailer is an inexpensive way to advertise and build brand awareness. If you have a memorable name or logo, customers are more likely to be reminded of it when they see your vehicle. And if that happens enough times, the customer will start associating your business with a specific product or service. This can be very beneficial for long-term marketing purposes since it's not always easy for people to remember businesses from one encounter alone.
A graphic wrap on your work truck also creates an opportunity for word-of-mouth marketing, as well as elevated awareness within real communities where you work and live.
Let's get your vehicle wrapped!
---
Choose a full-colour wrap for the win
If you want to make a statement and get noticed, full-colour vinyl wraps are the way to go. They will look good on any vehicle, no matter how big or small it is.
If you're looking for something eye-catching and unique, then this is the perfect choice for your business truck wrap. These wraps are sure to attract attention from potential customers who see them driving around town — especially if they have bright colours in their printed design.
Full-colour wraps are especially good for trucks, vans, trailers, and SUVs because they offer a large, clean canvas for your branding. This means they are easier to read from a distance - which makes them perfect for businesses that want their brand name visible even while they are on the move.
---
Tips to create a graphic wrap that gets noticed
To create the perfect wrap, you'll want to include a few key elements.
Include your logo. Your logo is the most important element of your wrap, so make sure it's prominent and easy to read. Your logo needs to be visible and recognizable so that people will be more likely to think about you when they need a contractor in future.
Use graphic design elements like color, shape, and contrast to draw attention to certain parts of your design.
Choose the right fonts. You want your text to be easy to read and not too small or too big, so it doesn't look cluttered or overwhelming.
Keep the details simple and clean. You want your message and branding on the wrap to be clear and concise, so people quickly learn what they need to know when they walk up to your truck or pass it on the road.
If you have multiple locations or services, consider including that information on the vehicle.
Try to keep things simple where possible—not all wraps need intricate details or multiple layers of images; sometimes less is more!
Remember: your wrap should look "cool" - but it needs to be easy to read and understand. Make sure the most important information (such as the name of your company, website, and phone number) is clearly visible from a distance. The more legible it is, the better the chances that people will take note of it when passing by on busy streets or highways.
---
How to choose the right graphic design company?
When you are looking for a graphic design company to create your vehicle wrap, it is important to find a company that has the right experience. You should also consider what their process is like. There are plenty of factors to look at, and it can be hard to know where to begin. There are also many companies that offer this service, so it's important to choose wisely.
Here are some tips that can help you choose the right graphic design company:
Check their portfolio. If they have a portfolio, then it means they are experienced and talented enough to create a good design for your car wrap.
Ask for referrals from people who have used their services before. You can ask them about their experience and how satisfied they were with the work done by the company.
Make sure you know what type of service the company offers before hiring them. For example, if you want a new logo plus a vinyl wrap for your vehicle, then make sure that the company provides this service as well.
---
Conclusion
I hope I've given you some food for thought. Whether you're in the market for a new logo or just want to make a few tweaks, it's never too late to start thinking about how your company looks from the outside in. A great way to start is by asking yourself these questions: Do people recognize my brand? Does it reflect who I am as an individual? How does my business represent me as somebody who cares about quality workmanship? Asking these questions will help you figure out what kind of impression you want customers making when they see your vehicle driving down the street!
---
---

Rob Redding is the President of Redding Designs Inc. (reddingdesigns.com), a full-service digital marketing agency for the construction industry, offering web design, social media marketing, and SEO services.